NPCs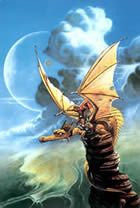 Guards:
Captain -
Flo - Tough amazonian woman who's got a thing for sparring with swords.
Riders:
WHITEWAVE WING - NPC
Wingleader Degana brown Wyloth
Wingsecond Kiyune blue Hakioleth
SQUALL WING - NPC
Wingleader R'brant bronze Skanmuth
Wingsecond Gl'rede brown Tulasidath
STORMFURY WING - NPC
Wingleader L'tellus brown Firooth
Wingsecond D'marr bronze Uttamth
DARKSMOKE WING - NPC
Wingleader M'rko brown Zozaith
Wingsecond Olgar green Ayath
REDCLOUD WING - NPC
Wingleader C'briam bronze Loxeth
Wingsecond Konna green Beryoth
Klah Pot Staff - NPC:
Molly - Waitress - Curvaceous, clever, and quite saucy, with long wild red hair that she often piles high on her head, or loosely braids into a weapon used against bad tippers. She's really quite short, but makes up for what she lacks in height with a big personality and an exaggerated hourglass form. Her age is just this side of stale, but she wields a sensuality that won't quit, keeping both genders alike vying for her attention, and not only for drinks!
page revision: 6, last edited: 24 Sep 2010 19:47